The beginner's guide to Mediterranean cuisine.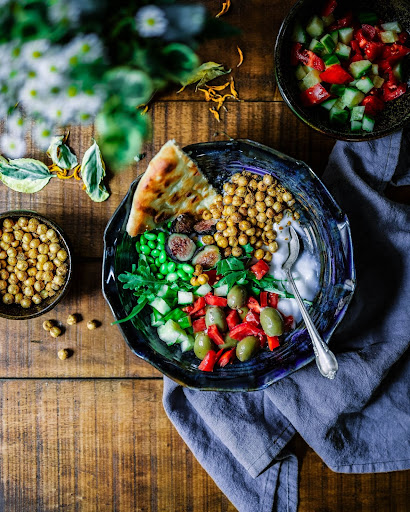 The smell of lamb permeates the kitchen and lures me in. With every step, I approach the mouth-watering dish, take one skewer and then take a bite. My mouth is in a party of savory meat cooked perfectly, with the smoky charcoal aftertaste. I taste the paprika and olive oil on the lamb; it is savory. My mouth waters with the taste of meat. I made the best sandwich from the rest of the skewer and fell in love. The dish's name is shish kebab (shish kuh-baab).
According to Harvard.edu, "…research supports the Mediterranean diet as a healthy eating pattern for preventing cardiovascular disease, increasing lifespan, and healthy aging." The diet is rich in cooked nuts, protein, and vegetables.
Mediterranean countries range from Southern Europe, Western Asia, and North Africa. Because of how widespread it is, a variety of foods encompass Mediterranean cuisine. The most famous foods include Baklava, Borek, Fattoush, Yaprak Sharma, Tiramisù (Ventento), and Dolmas.
There are many spices and techniques represented throughout Mediterranean cuisine. The herbs and spices range from basil, bay leaf, cloves, and cumin. These are essential to any Mediterranean dish. Virgin olive oil is used in all Mediterranean cuisine with the freshest ingredients, vegetables, fruits, and produce.
UACHS junior Ameenah Lawrence has experience with Mediterranean food and is fond of it.
"Mediterranean food is all balanced dishes filled with healthy vegetables," Lawrence said."My most memorable dish was this pan-seared honey salmon I had once. It was so full of flavor.
Dishes that do not have protein all of the time are also popular. The taste of the famous Yapra Sharma is to die for with its beautifully cooked rice and the grape leaves wrapped around it, melting the savory flavor and pinch of sweetness. This dish is famous around the middle eastern countries and primarily throughout Turkey. The vegan version is stuffed with rice, olive oil, onions, herbs, tomatoes, cumin, paprika, parsley, dill, and lemon. The other version has beef with rice mixed and cooked with the same spices.
"I like Mediterranean dishes as every dish melts in my mouth," said Lawrence, "Egyptian and Mediterranean cuisine share a lot of dishes such as kebabs and hummus."
In Syria, Yapra Sharma is called "Yebra;" in Greece, it's called "Greek dolmades;" in Iran, it's called "Dolma"; in Armenia, it's called "Toma." Each of these Mediterranean countries has twists and curves in creating this dish.
It is vital to make each dish special in its own way to get to people's hearts and open their appetites. Just as the saying goes, food is the symbol of love and flavor.
Mediterranean cuisine has many different techniques and flavoring that makes it appetizing. If you ever think about trying these foods, learn about their history, recipe, and rich taste. Within each bite, you get to experience a little of the culture.