It's Hotpot Season!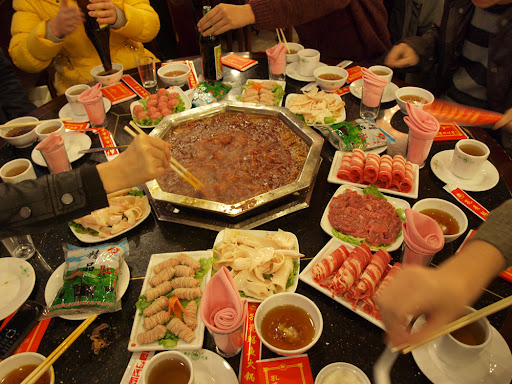 Imagine you are out with a group of your closest friends in the cold, chilly winter and you are craving a warm hot meal to fill you up. It is that time of year, from the big restaurant chains, the endless sauce bar, and luxuriant service, it is hot pot season. Eating hotpot is not just for the food, it is also quite an experience. The experience of being with your loved ones (or yourself), sitting around the table, enjoying the thinly sliced meats and vegetables simmering in a warm broth, a slow-cooked meal in a restaurant setting, or even your home.
Hot pot's origin goes back to when it was first introduced to East Asia more specifically in Mongolia believed to date back more than 1,000 years ago. According to tour guides, G Adventures, "The primary ingredient originally was meat (including mutton and horse) and the broth was not spicy. Hot pot can be found in the dining practices of Mongolian horsemen who rode into northern China." 
There are many variations of hot pot all throughout the world. From the original, China as huoguo (火锅 or "fire pot") that also became popular in Japan known as shabu shabu (しゃぶしゃぶ, which translates to "swish swish"), and Vietnam with lau (lẩu which directly translates to "hot soup").  Although each country has its own name the dish remains the same from place to place.
The original variation of hot pot is very different from what we enjoy today. Instead of having mutton and horse and the traditional non-spicy broth, we now have a good mixture of thin-sliced meats—from pork belly to lamb shoulder to filet mignon— meatballs, vegetables, noodles, fish balls, dumplings, tofu, noodles, and rice cakes that you can add to your order. 
Throughout New Jersey, there are many hot pot locations, but here in Jersey City, you can find it in KPot, Old Spot Hotpot, and Skewer. If you want a unique experience that will allow you, your friends and family to enjoy intimate conversation while cooking, go eat some hot pot.