Tiempo de celebrar: Hispanic Heritage Month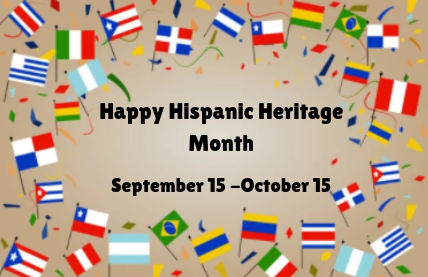 For more than 40 years, Hispanic Heritage Month has been a major celebration in the United States. This month, Americans around the nation rejoice and celebrate with pride as they recognize the value of variety. It is a national holiday to celebrate and honor the history, culture, and contributions of earlier generations who originated in Central and South America, the Caribbean, Mexico, and Spain.
According to National Hispanic Heritage Month.gov, "the celebration began in 1968, during President Lyndon B. Johnson's administration, as a one-week celebration known as Hispanic Heritage Week. Years later, President Ronald Reagan expanded the celebration to last a month. It was signed into law on August 17, 1988, officially designating September 15 to October 15 as National Hispanic Heritage Month." 
 During this time, different events are organized to learn more about Latin roots by supporting Hispanic organizations and cuisine. The month celebrates the Hispanics who have made a positive impact on society. 
 UACHS Spanish teacher, Liliana Paulino believes Hispanic Heritage Month is the time to celebrate, commemorate, and instill a sense of pride in the new generation of Hispanics for their heritage.                                          
"It means a lot during this period of time because it's a time we celebrate our Hispanic culture," Paulino said. "It is important for the new generation of hispanic people growing up to know where they come from and why it is important to appreciate your roots." 
In addition to celebrating and recognizing all Hispanics, it's also the time of month 
to appreciate, respect, and pay tribute to all the Latinos and their culture. Since Latinos are often overlooked, it's critical to keep their culture in mind. UACHS senior Amy Espin believes it is crucial to recognize Latino Heritage Month. 
"It's ridiculous that we get ridiculed a lot which really sucks, and it sucks for immigrants who are working hard to provide for their families," Espin said "I think it's inclusive and brings more awareness to a month dedicated to Latinos."
As the celebration of Hispanic Heritage Month continues, now is the perfect time to honor the contributions and successes of prosperous Hispanic Americans. Latinos who have put in the effort and inspired others to succeed.