Celebrating Black History at UACHS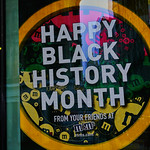 Annually, UACHS comes up with various ways of paying homage to black history. In the month of February, we reflect on past important events related to African-American ancestry who have made a significant contribution to the world via invention, science, and also art.
In the previous year the school celebrated through Zoom due to the pandemic. This year with school being back in physical session, many wonder what the school has in store. School mentor, Coach Clarence Collins and administrator Sean Sawyer usually handle the plans related to the celebration. Coach Collins gives his opinion about what Black History month is all about to him. 
"Black history is to be able to encapsulate and contribute to this world in one month," said Collins. "It is a time of reflection, accomplishments, a time that I look forward to every year." 
Aside from having classes create plans to incorporate Black history in the classroom, they also bring in speakers to discuss not only what this month means to them, but also their achievements as black men and women. This helps engage students into learning about themselves and motivating them to acknowledge the importance of knowing your history and the idea that you too can be successful. 
"We are reaching out to some folks of more diversity, such as latinos and Africans, to come in and speak on their experiences," said Collins. "Due to COVID there have been some restrictions so there will not be as many as before." 
Aside from bringing in people that they hope will inspire the next generation of adults, Collins also mentions that he will be bringing in law enforcement and will feature counselor Keisha Terry. Some of the events happening this month will feature discussions on mental health. 
 "A lot of kids in this school suffer from mental health so we want to make sure we at least try to mitigate the situation by having someone come in and discuss it," said Collins. 
Senior, Darius Stone, cannot wait to see who is coming to speak and what other activities the staff plans to do. 
"I am happy that they are celebrating black history month in this school," said Stone.  "Most schools do not show that much effort and I think it is really cool and important for everyone to learn black culture."