Susan Suarez: A Tough Goodbye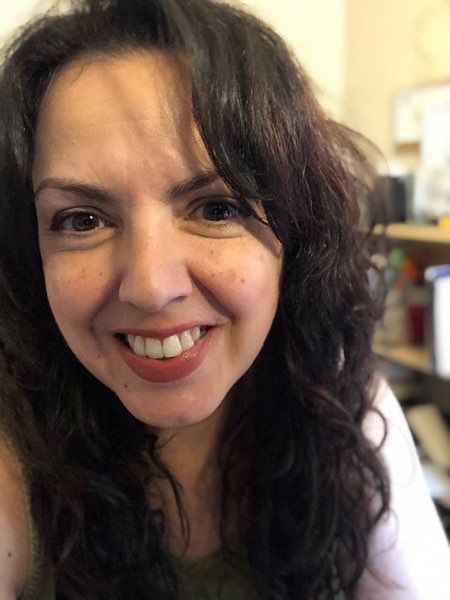 For everyone that has ever been a student, school is filled with all sorts of teachers. There are teachers that could care less about their students, then there are teachers that balance them out by caring; there are also ones that care too much. The ones that do care, worry about the students understanding the material and about how they teach it. They worry about the students' well being and how their day has been. For the past seven years, Susan Suarez, freshman and senior English teacher, has been this kind of teacher. The one who asks you how your day is and always stops to make sure you understand the material, but unfortunately at the end of this school year Suarez must move on. 
Before teaching, Suarez was a computer programmer for Prudential Securities while also running operational support services for Barnes and Noble, Inc. The whole reason for Suarez's interest in teaching was because she wanted to be better than teachers in her past. The teachers that could care less. Ones that would give the students worksheets and ignore the fun in teaching. Suarez wanted to be different. She wanted to be a teacher that used technology as a way to excite her students and make the classroom a safe space. 
"Back in high school I noticed that the teachers would just give us assignments and grade them," Suarez said. "It was very surface oriented and there weren't a lot of questions or critical thinking questions."
Many will agree that she made her lessons entertaining and her explanations valuable. It's not just her current students that will miss Suarez; everyone will. Junior, Pratt Charles, will always remember having Suarez as a teacher and reminiscing about his freshman year with her.
"I remember we used this website called class craft and I thought it was a great way for the students to interact with each other in a fun way," Charles said. "It was also good because if you get a certain amount of points she would give a reward to the student or to the team…I'm gonna miss that." 
Many students will miss her lessons and even more teachers and administrators will miss her presence. Susan Chenelle, the Supervisor of Curriculum and Instruction at UACHS, has been friends with Suarez ever since the day she started at our school. After all this time she has not only learned a lot from her friendship with Suarez, but also from Suarez herself. 
"The way that she provides structure in her classes is such a great example of the creative environment every teacher should want for their students," Chenelle said. "She creates a really positive and welcoming learning environment that students and even some adults want to be around." 
Suarez's departure is due to some good news.  Her husband, an Episcopal priest, was offered a job in Owings Mills, Maryland. Since he has to live where he works, they are both moving to Maryland this summer! Suarez will be focusing on her studies, as she finishes online learning and receives her doctorate. 
"I am getting my doctorate in educational technology, and eventually I want to teach what I have learned about technology to other teachers on how to use it in their lessons," Suarez said. 
Chenelle, along with everyone else, will miss Suarez as a teacher, as a colleague, and as a friend; but when someone receives a new life, we must encourage them. 
"I'm sad that it won't be here, but I know that this is a good opportunity for her and her husband," Chenelle said. 
When we say "goodbye" to someone who's always there, you feel it immediately. The staff and the students are going to miss Suarez, and she will miss them right back. 
"I'm going to miss watching my freshman classes grow up and having them as seniors later on," Suarez said. "I'm going to miss being able to see the kids outside of school and teaching in a small community. I'm going to miss my colleagues, especially all of the other freshman teachers."
Although goodbyes are sad, sometimes change is good. It's good for people to move to new places and make new memories and build new relationships. Mrs. Suarez, we all wish you good luck and hope your fresh start is an amazing experience, but this one is going to be a tough goodbye.