Trump's actions on immigration cause fear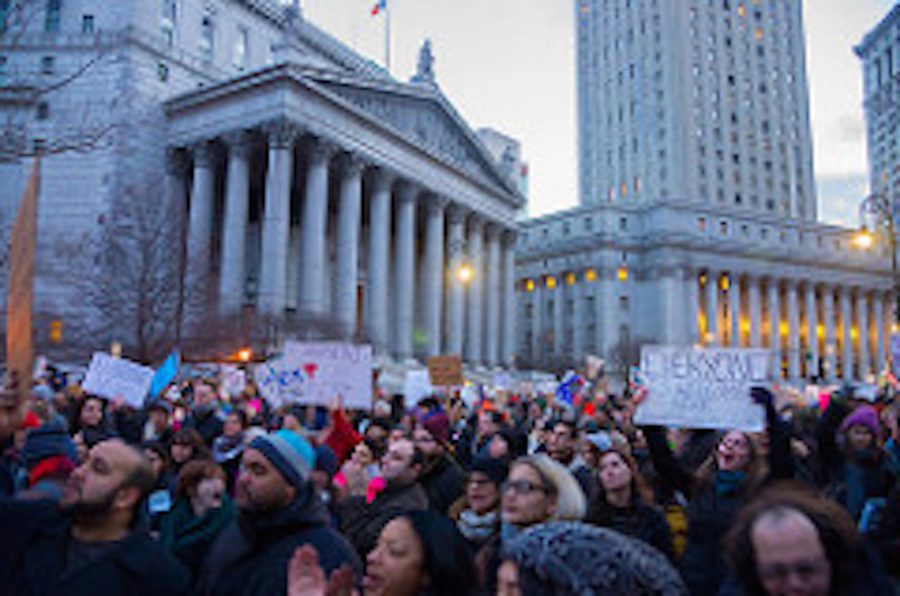 Kenise Brown, News Editor
April 25, 2017
President Donald Trump's revised executive order restricting travel from six countries has been blocked by the courts, just like the first one. At the same time, undocumented immigrants already in the U.S. are living in fear of being deported as Immigration and Customs Enforcement officers have stepped up arrests, even of undocumented immigrants who have not committed a serious crime.
The number of people who have been deported since Trump took office is greater than under former President Barack Obama during the same time period in 2015 and 2016.
"The more than 21,000 arrested in the beginning of this year is a roughly 33 percent increase over the same period in 2016 and a roughly 18 percent increase over the same period in 2015," as reported by CNN.
A student who wishes to be anonymous said she and her family were stopped and questioned by the police soon after Trump was inaugurated.
"When I was at the gas station, there were cop cars patrolling around. They stopped my family for our identification," she said. "If we were to resist, we would be questioned."
Computer teacher Barry Sussman said he is neutral about the deportations and that it is a sensitive topic.
"Honestly, the law is the law. My wife is from Spain with a green card. Both sides have a point," Sussman said. "It's good to take away criminals."
During his presidency, Obama deported more than three million undocumented  immigrants, primarily those who were convicted of serious crimes.
However, Trump wants to deport not just violent criminals, drug dealers and gang members but any immigrant who entered the country illegally or overstayed their visa, even if they have no criminal record.
"Many aliens who illegally enter the United States and those who overstay or otherwise violate the terms of their visas present a significant threat to national security and public safety," according to Trump's executive order on deportations.
A second student who wishes to be anonymous said he thinks it's "morally wrong" for Trump to make decisions on immigrants that can affect many families.
"Undocumented immigrants should have an easier way to be documented and not do things illegally," he said. "My mom has a G-1 visa that allows her to come and work here."
Guidance counselor Suzanne Hemeda, social studies teacher Hans Winberg and Director of Guidance and Support Services Eileen Cuellar attended a meeting at New Jersey City University February 1 on immigration and undocumented students, including those who had been protected under the Obama administration's Deferred Action for Childhood Arrivals program.
Hemeda said she wants to help undocumented students.
"It's important if we can help undocumented students get scholarship offers and go to colleges," Hemeda said.
More than 20 states, including New Jersey, offer in-state tuition to undocumented students, according to the Dream Educational Empowerment program for immigrant students.
A teacher trainee said she is in the DACA program, and it has helped her.
"I have been in it for four years now. This gave me a job here. It shows I have a work authorization. I was able to get my license, pay taxes and earn a scholarship," she said. "If DACA is discontinued, then I will lose everything that has helped me and was given to me. I will lose my Social Security. It depends on what Trump is going to do."
According to United We Dream, an organization that consists of DACA students, 10 students under the DACA program are in federal custody. In addition, DACA student Juan Manuel Montes was arrested and deported April 19 for not having his identification and being able to prove he is still under the DACA program.
However, Trump has said he wants to keep DACA.
"Trump allows to remain in place the DACA protections Obama had granted saying he felt sympathy for these young people who have limited ties to the countries of their birth," as reported by the New York Times.
The teacher trainee said Trump is being ridiculous with the travel ban and the deportations.
"He is being racist. He is categorizing people as terrorists," she said. "I understand Trump's idea with the deportations of the undocumented immigrants, but he is also categorizing them as criminals."
Mayor Steven Fulop announced February 3 that Jersey City is a sanctuary city for immigrants who entered the U.S. illegally as well as those who came legally but continued to stay when their visas reached their time limit.
According to a resolution passed February 8, the Jersey City Municipal Council is "committed to working with the Mayor to craft strong anti-discrimination policies to protect vulnerable communities" such as having policies where city employees, including police, will not check individuals' immigration status, cooperate with ICE to arrest people based on their immigration status or suspected immigration status or allow ICE access to private information without a warrant from a judge.
U.S. Secretary of State Rex Tillerson ordered embassies March 23 to follow a new procedure to examine immigrants before giving them visas to come to the United States. At the same time, 15 states, 12 of which are led by Republican governors, want to reinstate Trump's immigration ban.
Sophomore Safa Mostafa said that Trump is being selfish with his immigration policy and worries about how it might affect her brother-in-law who is from Qatar and has an Egyptian passport, even though neither country is currently included in the travel ban.
"There are people dying in countries with no water or no roof over their heads," Mostafa said. "After a year of trying to become legal, you realize that the president doesn't want you here. It's difficult for [my brother-in-law] to get a green card. Hopefully it works out."