Review: John Wick: Chapter 2
Bukola Adeleye, Arts & Features Editor
April 20, 2017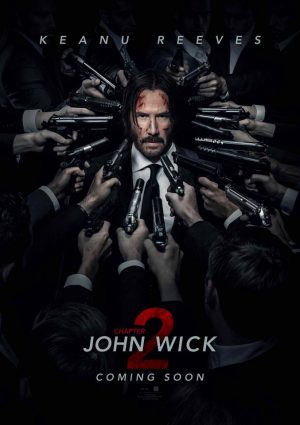 Director: Chad Stahelski
Genre: Action, Thriller
Rate: ★★★★★
"John Wick: Chapter 2" starts off with protagonist John Wick (Keanu Reeves) going to hell and back to retrieve his car that was taken from him by Abram Tarasov (Peter Stormare) in the last
movie. When Wick gets his car, he first goes to Tarasov to "make peace." Santino D'Antonio (Riccardo Scamarcio) then pays Wick a visit to ask him to do a job for him. After Wick refuses, D'Antonio blows up his house, burning all of Wick's memories of his wife to the ground. Wick goes back to New York to prep for the job, despite his initial refusal. Fast forward to France where he does the job and D'Antonio's goons come to kill him. When the ambush fails, D'Antonio puts a $7 million contract on Wick's head, causing trouble when he sets foot in New York.
Director Chad Stahelski does it once again with this exhilarating movie, which leaves viewers at the edge of their seats. Reeves' three-month training before the movie pays off in all of the rewarding action scenes. The film leaves the audience no time to wonder what's going on because they are too engrossed in all of the scenery and action until the somewhat anticlimactic ending. Guest stars like Ruby Rose of "Orange Is the New Black"  and rap artist Common play their parts well. This film is for viewers who love action and thrills that will keep them glued to their seats; it's not for the faint of heart.