Trump, Republicans take steps toward restricting abortion access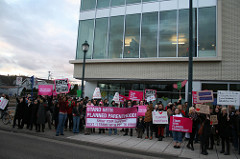 Kenise Brown, News Editor
April 20, 2017
President Donald Trump released a budget March 16 that cuts $500 million from Planned Parenthood, while giving $422 million to health clinics that do not provide abortion services. One of Trump's first acts as president was signing an executive order January 23 that banned funding for organizations that provide abortion
services and family planning to women outside the U.S.
These actions, along with Trump's nomination of federal judge Neil Gorsuch to the U.S. Supreme Court, suggest that Trump and the Republicans may make good on their campaign promises to restrict and ultimately ban abortion.
Trump offered a deal to the Planned Parenthood organization March 6 that if it stops performing abortion services, then the organization will not be defunded.
"I am deeply committed to investing in women's health and plan to significantly increase federal funding in support of non-abortion services such as cancer screenings," Trump said, as reported by CNN. "There is an opportunity for organizations to continue the important work they do in support of women's health, while not providing abortion services."
In response to Trump, Planned Parenthood Cecile Richards said that the organization will not stop performing abortion services.
"The White House proposal that Planned Parenthood stop providing abortion is the same demand opponents of women's health have been pushing for decades, as a part of their long-standing effort to end women's access to safe, legal abortion," Richards said. "Planned Parenthood has always stood strong against these attacks on our patients and their ability to access the full range of reproductive health care."
According to Planned Parenthood, defunding the organization will stop health care services for their patients.
"At least 60 percent of Planned Parenthood patients rely on public health programs like Medicaid and Title X for their preventive and primary care. So, when you hear extreme politicians talking about 'defunding' Planned Parenthood, they really mean blocking patients who rely on public health care programs from getting their care at Planned Parenthood centers," according to a statement on the Planned Parenthood website.
Social studies teacher Odaliz Vazquez said that people should have choices.
"I believe any program that promotes awareness and choice should be funded," Vazquez said. "People should have access to preventative measures and education about their reproduction."
English teacher Amina Farah said there is no point in defunding Planned Parenthood.
"Trump has no right to oppose abortion in a nation with women. It's outrageous to defund Planned Parenthood," Farah said. "Defunding Planned Parenthood does not stop women from having abortions, it will lead them to perform abortions on themselves in alleys."
Planned Parenthood said that the federal tax dollars it receives does not pay for abortions.
"A decades-old, unfair law [the Hyde Amendment] already prohibits that (except in cases of rape, incest, or when a woman's life is in danger)," according to the organization's website.
However, senior Aleishka Ferrer said that it is wrong for women to have abortions.
"Whether you consider a fetus living or not, it's still murder. If a state doesn't allow murder, then they shouldn't allow abortion," Ferrer said. "Legalizing abortion is giving women the right to kill their child."
Despite her opposition to abortion, Ferrer said it's not right to defund Planned Parenthood unless there's a plan to replace it.
"Trump should defund Planned Parenthood only for abortion and not as a whole," Ferrer said. "If Planned Parenthood provides people health care services, then leave it alone because it's a necessity."
If Gorsuch's  nomination is confirmed, pro-choice advocates worry that the Roe v. Wade decision legalizing abortion may be overturned.
Richards said that it is unacceptable to nominate Gorsuch.
"President Trump's nominee, Neil Gorsuch, has an alarming history of interfering with reproductive rights and health," according to a statement on Planned Parenthood's website. "If you oppose Roe v. Wade and women's access to basic health care, you are not qualified to sit on the Supreme Court of the United States."
Planned Parenthood Global Executive director Latanya Mapp Frett said that Trump's international executive order will have an effect on the global organization.
"The global gag rule will cause clinic closures around the world, resulting in more unintended pregnancy and unsafe abortion, not less. The world's most vulnerable women will suffer as a direct result of this policy, which threatens to undermine years of efforts to improve women's health worldwide," Frett said. "Politicians should not stand between a woman and her doctor, neither here in the U.S. nor anywhere else in the world. President Trump's actions will have far-reaching impact for women and girls around the world and is a stark warning about what may be in store for women here in America."
Social worker Keisha Terry said that everyone should make their own decisions.
"I believe every person is entitled to make their own choices for themselves, including women. I don't think it's a responsibility for the president to make that choice," Terry said. "There are students and young teens looking for love in the wrong places and become pregnant. They are not prepared for the real world. As a Christian, [I believe] God gave us a free will and decisions."