Republican health law receives backlash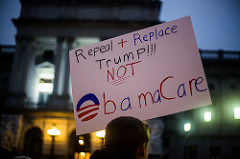 Kendra Brown, Managing Editor
March 22, 2017
House Republicans finally unveiled on March 8 the American Health Care Act, their plan to dismantle and replace the Affordable Care Act. The bill received immediate criticism from both Republicans and Democrats.
President Donald Trump has called Obamacare a "disaster" and that it was "failing miserably" at a joint news conference with the visiting German Chancellor Angela Merkel on March 18.
House Republicans said they are moving forward with "fiscally responsible legislation to deliver relief from Obamacare's taxes and mandates and lay the groundwork for a 21st century health care system."
Despite the Republicans' long-running criticism of the ACA, the AHCA keeps several of its most popular policies.
"Young adults will have access to health insurance and stay on their parents' health insurance until they're age 26 and are stabilized," as stated on the House Republicans website. "All market plans must cover treatment for pre-existing medical conditions. Once you're enrolled, the plan can't deny you coverage or raise your rates based only on your health."
However, the proposed health care law does make several big changes.
"The bill is designed to eliminate individual and employer mandate penalties that forced millions of workers and families into expensive ObamaCare plans that they can't afford," as stated on the House Republicans website.
The bill plans to take away these penalties and make the plans affordable by offering tax credits instead of the subsidies that the ACA provided. However, the tax credits for the people who buy insurance on marketplaces set up by the law would be based on age, not income. This means that the plans available under the new plan may not be affordable for people with low incomes; however, they would not have to pay a penalty if they went without insurance.
The bill will also "reduce and strengthen Medicaid expansion so states can better serve patients that are in the most need," as stated on the House Republicans website.
This would let states keep their Medicaid expansion and allow states that expanded Medicaid to continue getting federal funding as they would have under the ACA until 2020.
After 2020, the AHCA would end Medicaid expansion and states would no longer be able to sign new enrollees up for the program.
The new healthcare plan does include a kind of penalty that's intended to encourage people to get and keep insurance. If people don't get and keep insurance, there's a charge if they want to sign up later, unless they experience an event like the loss of health insurance, changes in household size, changes in residence or getting out of prison.
People may face a tax charge for not having coverage or signing up for insurance later.
The GOP's AHCA unveiled on March 20, that insurers will be allowed to charge 30 percent penalty to consumers on who have gaps in their health insurance, as reported by the National Public Radio.
The GOP's health care plan has drawn "rapid and fierce fire" in New Jersey, as reported by New Jersey Spotlight.
"Health care providers and patient advocates joined Democratic officials from New Jersey in harshly criticizing the plan they said would drive up costs for vulnerable patients, reward wealthier residents and the insurance industry, and destroy gains made under the landmark federal law," as reported by New Jersey Spotlight March 8.
According to the Congressional Budget Office, the CBO and the Joint Committee on Taxation estimated that "14 million more people would be uninsured under the legislation than under the current law.
"Most of that increase would stem from repealing the penalties associated with the individual mandate," as reported by the CBO on March 13. "Later, the increase in the number of uninsured people relative to the number under current law would rise to 21 million in 2020 and then to 24 million in 2026."
Repealing the ACA could result in an estimated 800,000 people across New Jersey losing health insurance and 62,000 people losing their jobs, according to the Economic Policy Institute.
During a White House meeting with GOP lawmakers March 7, Trump said he was "proud to support the replacement plan released by the Republican leadership," as reported by National Public Radio.
Trump continued his praise for the plan on Twitter.
"Our wonderful new Health care Bill is now out for review and negotiation. ObamaCare is a complete and total disaster – is imploding fast!" Trump said.
According to the Economic Policy Institute, many people rely on the Affordable Care Act and the way it is now due to its affordability.
An estimated 19.2 million people in the United States gained health insurance coverage from 2010 to 2015 due to the ACA, according to the Urban Institute. In New Jersey, an estimated 212,000 gained health insurance from just 2014 to 2015.
The percentage of people covered by health insurance increased by 25.4 percent in Hudson County from 2013-2017 under the ACA, according to a March 10 report by New Jersey Spotlight.
In 2015, the percentage of people without health insurance in the U.S. in 2015 was 9.1 percent or 29 million people, compared to the 45.7 million people who did not have coverage in 2008 before the ACA was enacted, according to the U.S. Census Bureau.
Social studies teacher Hans Winberg said that the Republican's health care plan would be very unfortunate.
"I understand that's it's going to eliminate large numbers of needy people under the ACA," Winberg said. "It would be a great disappointment, and I doubt it's a kind idea for America."
English teacher Gina DiRenzi said she hopes many people will still have health coverage.
"I don't want anyone to suffer or be injured," DiRenzi said. "I think if anyone can be covered, then the plan will be all right with me."
However, some students said that there's hope in Trump's work to repeal Obamacare.
Sophomore Michael Tapalla said there should be a "Trumpcare."
"Trump should really do a Trumpcare since Obamacare taxes people for not buying insurance," Tapalla said.
Senior Christian Hernandez said he agrees with Trump's plan to repeal Obamacare though he is unsure if it will succeed.
"If he doesn't have a plan to replace [Obamacare] with, then it will become a complete failure," Hernandez said. "And if his plan to replace it is worse than Obamacare, then he will look like a complete fool."
Freshman Julien Castellanos said Trump should be given the chance to be able to change something.
"I feel like if he has the chance to repeal Obamacare, then let him do it," Castellanos said. "He is president, and he has the power to change something to make it better."
More Americans than ever approve of the Affordable Care Act, according to a recent poll of the Pew Research Center.
"The poll conducted in mid-February found that 54 percent of those surveyed approve of the health care law, versus 43 percent who disapproved," according to the Pew Research Center. "Among the 43 percent surveyed who disapprove of the law, 25 percent said it should be changed and 17 percent said it should be repealed entirely."
Speaker of the House of Representatives Paul Ryan said Obamacare was a bad policy that failed to do what it was supposed to do.
"The law spends trillions of dollars we don't have, raises taxes on workers, businesses and families, and puts the federal government squarely in the middle of healthcare decisions," according to a statement on Ryan's website. "And as we have seen, it is resulting in cancellation notices and massive premium increases for families and individuals in Wisconsin and nationwide."
The Economic Policy Institute stated that 29.8 million people across the country would lose their health insurance if the Affordable Care Act were repealed, more than doubling the number of people without health insurance, and 1.2 million people would lose their jobs.
"Most of the job cuts would result from two factors: the loss of federal spending for premium tax credits that help people pay for marketplace coverage, and the loss of spending for Medicaid services, particularly in 31 states and the District of Columbia which expanded eligibility for the program," said John Bivens, the Director of Research at the Economic Policy Institute.
New Jersey Governor Chris Christie said February 12 that he stands by his calls for the repeal and replacement of the Affordable Care Act but wants Trump and congressional Republicans to ensure those covered by its Medicaid expansion aren't harmed, as reported by CNN.
"I want them to continue to be able to have coverage," Christie said. "Now, there can be lots of ways to make sure that doesn't happen."