Changes in school policies, administration spark mixed reactions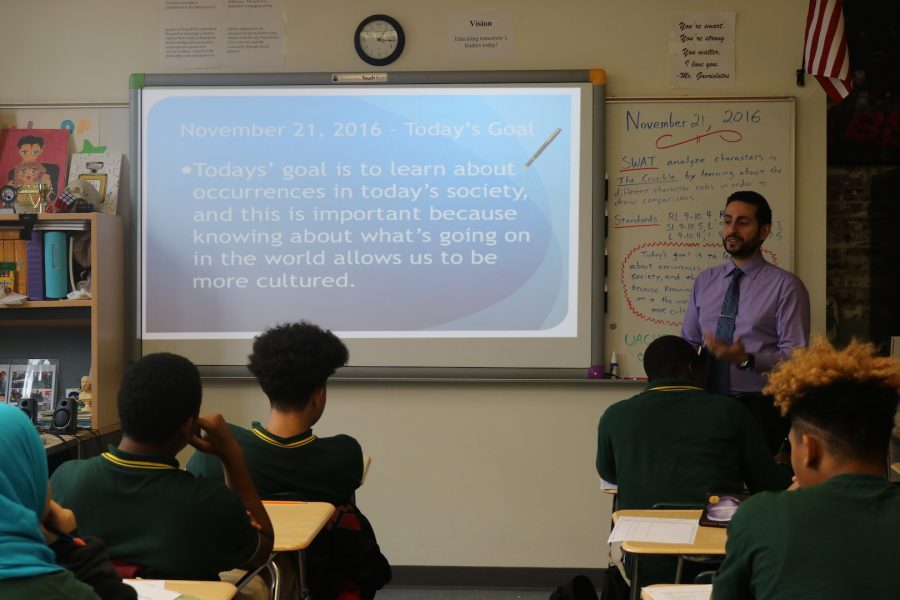 Infinity Ferguson, Opinions Editor
December 5, 2016
The new leadership point system, meaning statements and other changes have stirred mixed but generally positive responses throughout the school.
Newly appointed Director of Grants and Special Projects and former social studies teacher Joseph Timpanaro said he created the point system as a way to motivate students.  
"The administrative team wanted to motivate students through incentives such as trips, lunch [privileges] etc.," Timpanaro said. "We agreed that the point system could help inspire students to work harder to be leaders."
Senior Dayvon Thorpe said he disagrees with the leadership points policy because he feels like there is more pressure upon students in school and student behavior has not improved.
"It got worse because the leadership points system is not a good way of making kids do better; kids are sneaking out because they can't go out, which causes them to get in trouble," Thorpe said. "The only solution is just letting everyone go out to stop kids from sneaking out."
Junior Jaylin Chisolm said that she feels like students are more "mindful" of what they do and seem more responsible this year.
There have been changes to what goes on inside classrooms as well. Teachers are now posting and having students write down "meaning statements" at the beginning of class.
Timpanaro said the meaning statement reinforces the importance of the lesson being taught that day.
"Students would often ask what are we learning today in classes, so the meaning statements are there to help students understand the lesson being taught to them," Timpanaro said.
Teacher Sherriner Williams said that the meaning statement is useful because it introduces the relevance of the lesson that's being taught that day.
"The new meaning statement policy reiterates the learning objective because most kids don't know why they're learning the lesson or what it is even about," Williams said.
However, senior Crystal Conrad does not agree with having meaning statements.
"The meaning statement is a waste of class time because we won't have enough time to do what's needed and that's start the lesson," Conrad said.
Senior Zaihere Staton said that the meaning statements are useless.
"They're pointless because no one copies them. It's just another rule our school fails to enforce," Staton said.
The school's new administrators have played a major role in the changes this year. In addition to Timpanaro's new position, former English and journalism teacher Susan Chenelle, who still advises The Student Voice, is now supervisor of curriculum and instruction, while former guidance counselor Eilleen Cuellar is now director of guidance and support services.
Cuellar said that she likes her new position and that the changes affect students' lives in a positive way when it comes to career and college readiness. The school hired Suzanne Hemeda to replace Cuellar as guidance counselor.
Hemeda said that she likes her new job and that everyone has been welcoming.
"Our students have such great personalities that make the days fun, and I thoroughly enjoy working on college and career-ready choices with our students," Hemeda said.
Senior Patrice Pierre-Louis said he likes the new administrative changes, especially in terms of the guidance department.
"I like being able to talk to more than one guidance counselor about my issues in school," Pierre-Louis said.
English teacher Amina Farah said she felt that the change in administration was needed.
"I know Mr. Timpanaro and Ms. Chenelle are going to make some big changes in the behavior of students and the curriculum," Farah said. "I'm seeing it happen now."
Senior Jamar Smith said that the administration can do a better job handling the new policies.
"They have not been handled well because students still sneak out and sometimes they don't get any consequences, and people that deserve consequences don't get anything because there's no more detentions," Smith said.
Timpanaro said that the consequences of sneaking out mostly depend on the student and how many times they've done it.
"It depends on the student, if it was their first time, [and if they are a] freshman, sophomore, junior or senior," Timpanaro said. "You can get suspended or you can get a lunch detention or parents will be notified."
Students who have ninety or more points by the end of a month are recognized as General's Leaders and allowed to go out for lunch and go on special field trips during the following month.
"You start out [each month] with 100 points, and you don't necessarily gain points, you can only lose points when you are not doing what you are supposed to do, like not being in uniform and coming in late," Timpanaro said. "It's also based on behavior and your grades in classes; if you have D's and F's, opportunities will be taken away from you; students can earn more points by doing simple tasks like throwing out trash, being a peer mediator, etc."
Despite her support for the school's changes overall, Farah said she doesn't agree with rewarding people for doing what is expected of them.  
"Students shouldn't be rewarded for that because it should be in intrinsic by the 11th and 12th grade, throwing out their trash should be intrinsic, etc.," Farah said.
The rules about what is considered uniform and what is not are the same, but the consequences are handled a bit differently.
Being out of uniform negatively affects the number of leadership points that a student has. However, a student can rent a uniform for $2, which means that he or she can get a uniform to wear for the day.
Freshman Karrington Hill said he doesn't agree with the uniform policy.
"I think the uniform rental idea is unfair because you have to pay for it, which would be the whole reason why [the student] needed uniforms in the first place because they couldn't afford it possibly," Hill said.
Teacher trainee Brian Brown, who worked at the school last year as well, said that he has noticed some changes with the uniform policy since the plan was implemented.
"I've noticed that the students are quicker to get in uniform out of fear of losing leadership points," Brown said.
Assistant dean Sean Sawyer said that he has noticed some improvements in regards to students following the uniform policy.
"We have more students in uniform and we've had less issues during lunch since the policy," Sawyer said.
Substitute teacher Dolores Bullock said that she has noticed a different environment in the school.
"I think since the policies have been put in place the school has become a lot more calmer,"  Bullock said.
Chisolm said that the school has gotten better since the school's administrative changes and when it comes to reinforcing new rules.
"Our school has become a lot better because of the changes in administration; you have Tip going around checking classes, and it really helps show the students that the administration is not playing games," Chisolm said.
Sophomore Ayanna Holmes said that the school has become a lot more relaxed since the new policies were introduced.
"I've noticed it's a positive change because it's less chaos in the cafeteria," Holmes said. "I think the policy is good because of its recovery thing; every month you can recover, so if you mess up one month you can restart."
Senior Haydee Soriano said she did not see any changes since the changes in administration occurred.
"To be honest, I didn't even notice the changes in administration because I've always seen [Ms.] Chenelle in a class, but the school has not changed much since the administrative changes, besides the lunch rooms being a little clearer which is a good thing," Soriano said.
Sawyer said he has seen "slight improvements" so far this year.
"We can not be conclusive on whether or not the policies have affected the students, but I see some improvements and hopefully more to come," Sawyer said.