Review: Luke Cage
Angel Guzman, Sports Editor
December 8, 2016
Genre: Action, Crime, Drama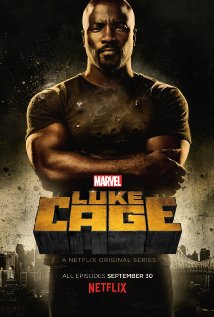 Rating: ★★★★☆
in "Marvel's Luke Cage", an urban war breaks out between the people fighting for what they believe in and whoever they need to protect and those who would do anything to get what they want. With the constant shifts in power, they all look toward the same goal: Harlem, but a bulletproof man has the strength to end it all.  
The main protagonist Luke Cage (Mike Colter) recently left Hell's Kitchen due to his bar being blown up by Jessica Jones nemesis Kilgrave (and suffering a shotgun blast to the head). Now Cage is in Harlem trying to lay low and working several jobs, one of them being sweeping the floor  in a barber shop owned by Pops (Frankie Faison), a family friend of his deceased wife Reva. The shop is commonly referred to as "Switzerland" in Harlem, but after Wilfredo "Chico" Diaz (Brian "Sene" Marc) and his friend Shameek stir up some trouble with Cornell "Cottonmouth" Stokes' (Mahershala Ali) gun deal, things get turned upside down. Later in the series,  ghosts from Cage's past emerge and some are out to get him.
This first season is full of plot twists and character build-up, as Cage evolves into the great hero for hire that Marvel fans know. The one problem is that there are few fulfilling fight scenes compared to Marvel's other series "Jessica Jones" and "Daredevil," where the action and power balance favor the antagonist rather than the protagonist. Here, Cage and the antagonist are too equally matched, and forget the fights with the regular crooks because they are no match for him. Viewers who like character development and a good superhero will enjoy the series, but those who are in it for the fights should watch "Marvel's Daredevil" instead.