Review: Boo! A Madea Halloween
Danayah Jenkins, Staff Reporter
December 8, 2016
Director: Tyler Perry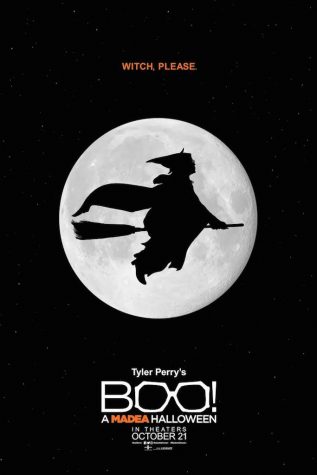 Rating: ★★★★⭒
Genre: Drama film/Horror
Trick or treat the clowns have come out to eat in "Boo! A Madea Halloween" as Tyler Perry plays the role of Madea in this sinister yet comical movie.
At the beginning of the movie, Madea and her friend Aunt Bam (Cassi Davis) are sitting on a bench giving out candy to the little kids. While giving out candy, Madea gets a call from her nephew Brian (also Tyler Perry) asking her to watch his 16-year-old daughter Tiffany (Diamond White) on Halloween night because  she's not supposed to be allowed go to the frat party hosted by Jonathan (Yousef Erakat). Madea agrees to it, but sneaky Tiffany plots against Madea so that she and her friend Aday (Vine superstar Liza Koshy) can sneak out. Now Madea has to deal with a haunted house as she tries to find Tiffany before Brian gets home; that is if she survives the zombie apocalypse waiting for her.
In this film, viewers may be surprised to see the bold Madea morph into a scaredy cat. This movie is great for people who enjoy not only horror but a good laugh as well. The comedy brings out big laughs but the horror doesn't deliver on the chills. Nevertheless, this is another great film by Tyler Perry featuring new faces to the big screen.