School reacts to surprise election of Trump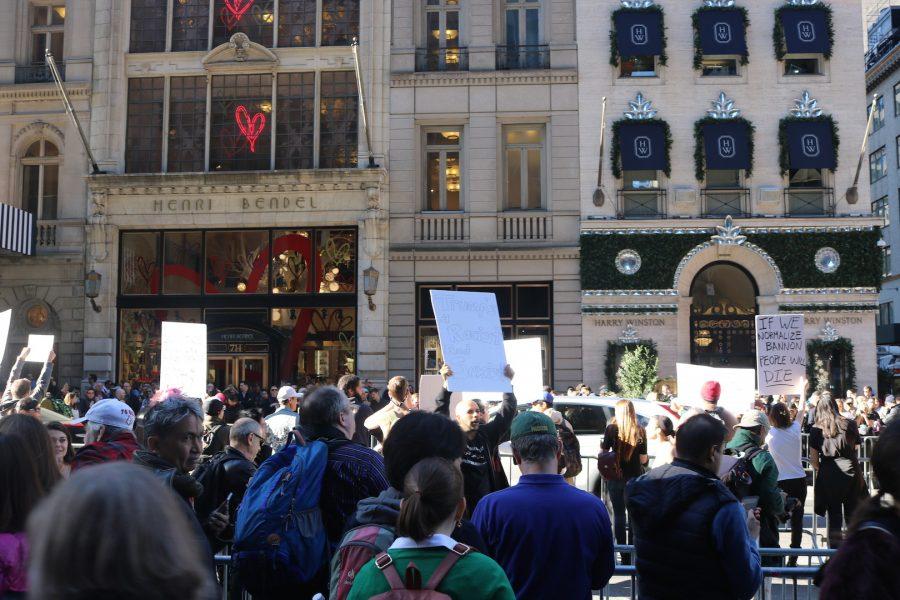 Kendra Brown and Kenise Brown
December 5, 2016
While most students and teachers were very upset by the results of the presidential election, some were satisfied and hopeful about what the Trump administration might bring.
Senior Maleisha Bryant said she voted in this year's election and that it was important to do so.
"I believe that if I didn't vote, I wouldn't have made a difference," Bryant said. "As a millennial, we have such a huge impact in elections. I think the millennials are an important group in this country because the decision we make will affect us in the future."
According to The Center for Information & Research on Civic Learning and Engagement, young people voted at a similar rate to 2012, close to 50 percent, which is substantially lower than the overall voter participation rate of 58 percent. Most millennials supported Hillary Clinton.
"Fifty-five percent of millennials supported Clinton and Trump got about 37 percent of the youth vote," according to the CIRCLE website.
According to a Student Voice survey conducted in October, only 15 percent of the eligible seniors planned to vote.
Senior Frederick Favor was eligible to vote but decided not to.
"Both candidates were horrible and not honest. How can I trust them to be president when they are not honest?" Favor said. "I'm surprised that Trump won the election."
Bryant said she was surprised Trump had a huge advantage over Clinton.
"I didn't expect him to have that much of a lead," Bryant said. "I assumed Hillary would've won the big states such as North Carolina and Pennsylvania."
Computer teacher Barry Sussman said he had no feelings for the election.
"I feel like it was a joke," Sussman said. "I voted for neither of the candidates. But if I would've had to choose from Trump or Hillary, I would choose Trump because he's an independent man."
Mathematics teacher Bahaa Housni said she was shocked by the results of the election.
"I was angry, but when I look at the big picture, nothing can be worse than what's already happening in this world," Housni said. "I believe in destiny. I want to leave it in the hands of God."
Housni said she feels disgusted that Trump might require all Muslim immigrants to register.
"I feel humiliated, the Muslim Registry is really designed to stigmatize a whole group; everyone who in any way identified with Islam will be stigmatized by it," Housni said. "I think if they end up applying that it will erase all the principles of diversity and will set us back 100 years."
Some students, like sophomore Michael Tapalla, said they were satisfied with the results of the election.
"[Trump] will start doing big things in America," Tapalla said.
Senior Christian Hernandez said he hopes to see a lot of things being done.
"I'm happy Republicans won with Trump's presidency and hope that they do more than the Democrats since 2008 because [the Republicans control] the Senate and House," Hernandez said.
Mathematics teacher Pinkus Pavlotskiy said he was satisfied for many reasons.
"First of all, I don't like liars," Pavlotskiy said. "My opinion of people working in the government and keeping secrets is irresponsible. Secondly, our soldiers and [ambassador] in Benghazi died because of [Hillary Clinton]. They were waiting for her order and she is responsible for this."
However, most students and teachers interviewed by The Student Voice said they were not happy with the results of the election.
Sophomore Rayne Battle said she was upset about Trump winning the presidency.
"I was mad. I was about to cry. During these four years, I can see everyone getting deported," Battle said.
Junior Janell Gallemore said she was disgusted when Trump won the election.
"Trump isn't fit to be president," Gallemore said. "I don't like how he talks about people such as immigrants and those who are disabled."
English teacher Andrew Bott also said he was dismayed by the election.
"I had thought America would be offended by the words and actions of Trump before and during his campaign," Bott said. "The future does not look bright for America. I just hope presidents in the future learn not to say anything to just get elected."
Freshman Rianna Robles said she didn't like the results.
"I didn't like that Donald Trump won," Robles said. "I don't like the words he says about Mexicans, calling them names such as rapists or gangsters."
Junior Dominique Ling also said she does not agree with Trump becoming president.
"Donald Trump is a racist and a sexist. He's terrible and is not good for America. Hillary should have won because she has experience, knows politics and can improve America," Ling said.
Trump winning the election and becoming the next president created a lot of anger throughout the country and even in colleges like New Jersey City University where students have protested in support of diversity, refugees, Black Lives Matter and LGBT rights.
NJCU graduate student Bukiya Bluford, 30, said she "felt the world was different when I woke up on Nov. 9," as reported on NJ.com.
The protest began Wednesday, November 16, at 2 p.m., when many students walked out of their classes to meet at the school's fountain.
The demonstrators called for the school's administration to turn the campus into a sanctuary by protecting the students of every race, ethnicity, religion and sexual orientation, regardless of their immigration status, as reported by NJ.com.
NJCU's vice president of global initiatives Tamara Cunningham said the university's mission remains the same.
"Education, inclusion and opportunity for all are at the heart of the community, a community that thrives on the exchange of knowledge and ideas and views our great diversity as a core strength," Cunningham said.
Tapalla said he does not agree with people protesting.
"It is unnecessary for people to protest and act uncivilized on something you cannot change," Tapalla said.
Physical education and health teacher Richard Miller said he wants to see a good future ahead of us.
"There's a lot of drama and excitement, but no one expected to see the results of the election this way. Hopefully things move into a positive direction and people to be happy," Miller said.
Social studies teacher Aldo Grullon's U.S. History I Honors students have been studying the election closely.
"It was great to see the students interested in the election even though they didn't vote," Grullon said.
They plan to go up to NJCU to talk to students about their thoughts on the election as part of a service learning project.
However, sophomore Khadijah Lewis said the project won't change the results of the election.
"The election is over now, and I don't think the students would be that much interested," Lewis said.
Trump will be inaugurated as the 45th president of the United States on January 20, 2017.
In a "60 Minutes" interview with Lesley Stahl November 13, Trump said he's going to focus on the things he talked about in the election.
"I feel that I want to focus on jobs, I want to focus on healthcare, I want to focus on the border and immigration and doing a really great immigration bill. We want to have a great immigration bill," Trump said.
Gallemore said she hopes Trump covers the most important issues.
"I hope he covers gun control and the abortion issues, since it's serious at this time," Gallemore said.
Robles said she expects to have affordable college costs.
"I expect for the cost of college tuition to lower so there are no problems of attending college," Robles said.
Sussman said he expects Trump to get his stuff together and be professional.
"I expect Trump to act as a president and do what a president should do."