Sophomores highlights of frustrating cross-country season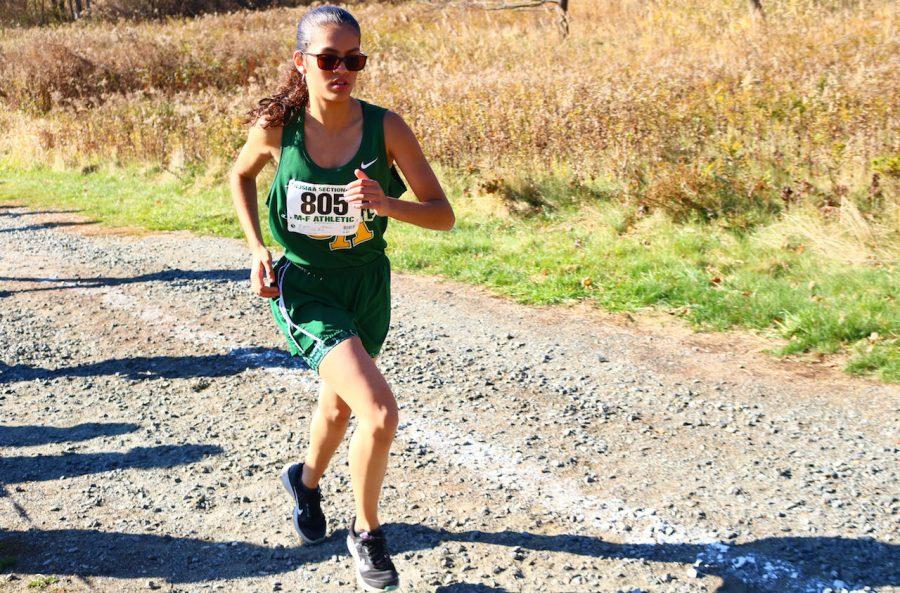 Angel Guzman, Sports Editor
December 8, 2016
Sophomores Freddy Martinez and Tiffany Ortiz qualified for the NJSIAA Group Championship at the NJSIAA Sectionals-North II meet November 5. They were the only members of the team to qualify at the end of a season that was frustrating to both coach and some of the runners.
Martinez placed eighth in the NJSIAA sectionals North II Males division with a time of 17:25.
Senior Kenneth Fernandez finished close behind placing 15th with a time of 18:05.23 but missing his chance to move on to the Group Championship.
Ortiz placed 10th out of 45 varsity runners with a time of 22:55.91.
On the day of the Meet of Champions, things didn't go as smoothly as expected. The bus took a long detour due to many on-ramps being closed.  
By the time they got to the meet, Martinez's race had already started and Ortiz was up next. According to Coach Frederic Williams, Ortiz, "ran to the mile mark and just ran out of gas."
Even though their participation in the Meet of Champions wasn't successful, their season overall went well. Martinez made it into the all-county second team, while Ortiz was close to making all-county third team but missed it by one girl.
"It was an interesting experience, I reached different levels of tired, yet it was fun to be with the team," Ortiz said.
Martinez placed 12th in his varsity race for the Hudson County Championship October 29, with a time of 17:04 flat, breaking Wall of Famer Benjamin Singleton's sophomore record set at the Hudson County championships in 2006.
Williams, however, wasn't content with the season overall since he had higher hopes for his runners and their outcomes.
"It was a frustrating season, we had some ups and downs this year. It was the kind of team that, if one person had a bad day, then everyone had a bad day," Williams said.
The team, led by senior Kenneth Fernandez, was composed of more underclassmen than upperclassmen. The only other seniors were Ahmed Shehata and Tyler Spivey.
Fernandez said he had mixed emotions about his last season of cross-country, his second as team captain.
"I'm glad that we are moving on in life, but I'm gonna miss doing the running, since the colleges I'm applying to don't have a cross-country team," Fernandez said. He said he is applying to technical schools like Lincoln Tech and New Jersey Institute of Technology.
For this season Fernandez wanted to go after Singleton's times but only managed to finish under the 17-minute mark twice.
"Kenny had a good season, he dropped the time for his personal record. He did good, but he didn't get were he wanted to be," Williams said.
Sophomore Jaime Tlatelpa managed to become the varsity team's fifth man with a personal record of 20:55.21.
According to Williams, Tlatelpa really picked up the slack when the team needed it from him.  
Other varsity team members included Martinez, Shehata, sophomore Justin Tiangsing and sophomore Josh Verzosa. According to Williams, Tiangsing was a good fourth man, picking off runners during races and even passing Shehata, the team's third man, during the NJSIAA sectionals in 19:30.79.
Spivey, who usually runs during the winter and spring seasons only, won the junior varsity team's second-man position followed by fellow sprinter Mike Tapalla, sophomore, as the third man.