Freshman remembered for her voice, kindness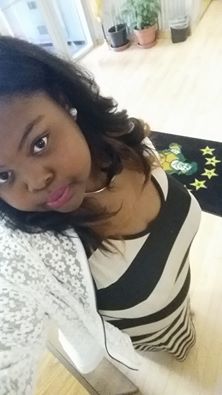 Eliza Jeffery, Ji'Asia Anderson, Bukola Adeleye, Infinity Ferguson, Thara Dambreville, Tatyana Reed, and Mahkiya Gresham
June 17, 2016
Hang on for a minute...we're trying to find some more stories you might like.
Students, faculty, staff and administrators gathered Monday morning with the family of freshman Shavon Hill-Williams behind the school to express their grief and share their love for the student who many remembered for her kindness and sensitivity toward others as well as her talent for singing. Hill-Williams died Friday, June 10, at Jersey City Medical Center after collapsing at the school's annual barbecue.
During the wake, which was planned by students during the weekend over social media through the hashtag "#RipShavon," students lit candles and tied balloons to the tree near the spot where Hill-Williams fell. Many students wore Hill-Williams' favorite color purple as a tribute.
Like many who spoke at the wake, sophomore Yanique Ricks said she hadn't known Hill-Williams very well.
"But you didn't need to know her to see how beautiful of a person she was. Whenever I was upset, she would check on me before my own friends did," Ricks said. "She cared about me, and I didn't even know her."
Junior Dayvon Thorpe, however, said he had known Hill-Williams back when they were at Jersey City Community Charter School.
"There was something about Shavon that everybody loved; she just had a glow to her," Thorpe said. "Every time [I've] seen Shavon, I got so excited; it is something I'm really gonna miss."
Junior Quadriah Smith-Ball said that Hill-Williams is in a better place now.
"Being on this earth was her hell; now she's finally at peace with the Lord," Smith said.
Hill-William's father Leon Williams noted that Shavon had said some people made fun of her size.
"People used to laugh at her because she was big, but I used to always tell her you're beautiful in heart," Williams said.
Toward the end of the wake, several students who had been in choir with Hill-Williams sang. Senior Devon Jenkins began with "It's So Hard to Say Goodbye to Yesterday," sophomore Dominique Ling followed with a verse of "Amazing Grace" and senior Haley Ortiz concluded with Meghan Trainor's "Like I'm Gonna Lose You," which Hill-Williams had sung at the choir concert June 3.
"Shavon sang it better," Ortiz said.
At the end of the wake, Hill-Williams' father Leon Williams encouraged students to do their best on their final exams.
Members of the Hill-Williams family gave hugs and shook hands with students who attended afterward.
Hill-Williams' older sister Jocelyn Lennon said Shavon was always smiling.
"She left her mark and that was her way showing me that family comes first and life is short," Lennon said. "She is a real inspiration to everyone."
Hill-Williams' mother Sharlet Williams said, "she will always by my sunshine and I will love her forever."
The end-of-year barbecue had just kicked off with music and dancing and food on the last day of classes when Hill-Williams collapsed at 11:07 a.m. She died at Jersey City Medical Center at approximately 12:30 p.m. and rumors began to spread quickly via social media among the students still at the barbecue.
Dean Erie Lugo said that his "first gut reaction" was to contact the grief counselors to make sure everyone was okay.
"There is no script for what happened on Friday," Lugo said. "They don't teach you anything about this [while you're learning to become a principal]."
Assistant dean Sean Sawyer said his job when something like this happens is to work with grief counselors in order to make sure everyone is okay.
"[We have to see] how the students [are] going to receive it, and find the best way to address it," Sawyer said.
Sawyer said that he helped the paramedics get Hill-Williams into the ambulance after she collapsed.
"I just wanted her to be okay when we put her in the ambulance," Sawyer said. "I thought she would be okay, [but] it just didn't happen that way."
Hill-Williams attended the Young Women's Leadership Academy that Sawyer was in charge of on Saturdays.
"She was a young lady with a great voice and a kind spirit and had so much more to see; she will be missed," Sawyer said.
School mentor Clarence "Coach C" Collins said he thinks that whatever title you have, "you are human first" and that gives you the right to care.
"A lot of times you worry about sticking to a particular script, [but] that's not the case," Collins said.
Collins said that when a situation like this occurs, he turns into a grief counselor; however, some people might see him more as a father figure.
"I'm there to come up with answers for the students even when there isn't one," Collins said. "It's a feeling that we all have to experience."
Collins said that he has to focus on making sure the students are "in a good space" and ensure that none the students weren't going to "further injure themselves or hurt themselves."
"[They should also] focus on the fond memories they had with Shavon and not so much that she is gone," Collins said.
A candle-lighting was held Friday evening at Audubon Park in her honor, where students gathered with the Hill-Williams family.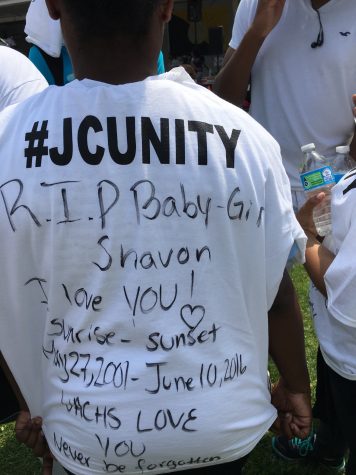 Students who participated in the anti-violence Unity Walk on Saturday, June 11, also paid their respects to the Hill-Williams family by decorating their t-shirts in remembrance of Shavon.
Jenkins, who had been close friends with Hill-Williams, said that he had cried throughout the weekend.
"On Sunday I came to the realization that things like this happen, and God sets a path for everyone to follow," Jenkins said.
Ling said she was struggling to accept what happened.
"I'm hurt by the situation because [Shavon] was one of my closest friends, like why did God have to take her?" Ling said.
Senior Melanie Clark said she was still hurting on Monday as well.
"I felt a pain in my heart because I was just starting to get closer to her, so it hurt a lot," Clark said.
Senior Chyna Lewis said Hill-Williams' death had left her with pain and questions.
"I was hurting so badly when I found out what happened because it made me think about a lot of things in my life, like what if that was me?" Lewis said. "I felt pain because she was my friend, but I know she's in a better place."
Lugo said that he "lost it a couple of times" on the way to work Monday, but that he still had to do his job by making sure that "the school keeps running" and the students are able to finish the year.
"It seemed like she had a way of seeing people that were not in their right self and was able to pick them up," Lugo said. "I'm going to miss her."
Social worker Keisha Terry said that her role is to "keep everybody together and de-escalate [the situation]," which is hard due to the fact that some people would not talk to grief counselors. She said she has to make sure that the students are OK and "contact parents to [let them know that their child is suffering] from severe grief."
"We had a counselor here on Monday, but some of the students didn't want to talk to her because they didn't know her," Terry said. "They wanted to talk to someone in the building that they know or each other; however, in this type of situation [the staff is also grieving in their own ways]."
Terry said that it is important for people to talk to someone about what they are going through because "it was traumatic and it's going to impact [you]."
"I can't really counsel someone, and I'm grieving too," Terry said. "Just because I'm not crying or acting out in [an emotional way] doesn't mean I don't feel pain too."
Senior Imani White said that she was shocked and devastated by Hill-Williams' death.
"The fact that we lost a student has made everybody come together," White said.
Collins said that he believes the students will go back behind the school and remember what happened and that "you don't know when your last day [will be, or when] you will take your last breath."
"They will see their lives having worth and value now," Collins said.
Senior Juana Turner said she felt bad for Hill-Williams' parents.
"Imagine you sending your child off to the school, telling her to enjoy her last day of school and have her not coming back," Turner said.
Collins said that Hill-Williams always wanted to see everyone happy even when she was dealing with some issues.
"I thought when we lost Muhammad Ali [that] he was the greatest champion of all times, but Shavon was the people's champion," Collins said.
Social studies teacher Joseph Timpanaro set up a GoFundMe page to raise $17,000 to help Hill-Williams' family cover the funeral expenses because the family's insurance will not cover them and to establish a scholarship in Shavon's memory.
A viewing and funeral mass will be held Saturday at Metropolitan AME Zion Church, 140 Belmont Ave., 8 a.m.-11:30 a.m.; burial will take place at Holy Name Cemetery, 823 West Side Ave., 11:30 a.m.-1 p.m.