Spring track on a winning streak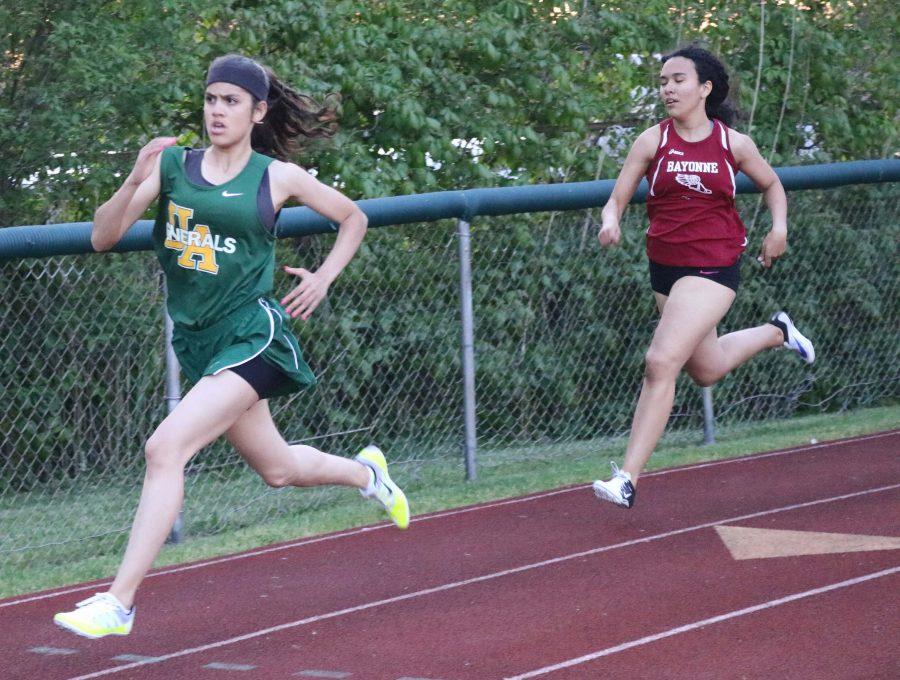 Infinity Ferguson and Bukola Adeleye
June 4, 2016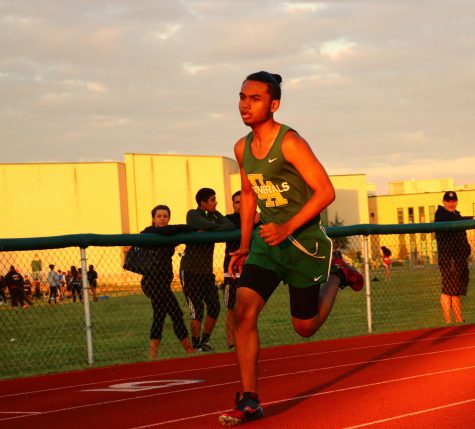 The boys have been doing well across the board, with 10 team members qualifying for state sectionals. Meanwhile, the girls team has been going strong, especially with freshman Tiffany Ortiz's performance throughout the season.
Girls track
Ortiz won fifth place in the 100-meter dash in 14.01 seconds and third place in the 400-meter dash in 56.6 seconds during the Hudson County Track Coach Association Championships May 19-21.
Ortiz has broken three records, two freshman and one varsity, during her freshman year. She has set new 100- and the 800-meter dash on freshman records and a 800-meter dash on varsity level.
"She is only 3/10 of a second from the school record of the freshman 400-meter dash," coach Frederic Williams said.
Ortiz said she appreciates how much the coaches push runners during practices.
"Training with the coaches is the best. They get crazy sometimes, but I know it makes me better," Ortiz said. "I love it. It's been the most fun, since I never been in a sport before."
Ortiz has qualified to run in the New Jersey State Interscholastic Athletics Association Group 1 Sectionals.
"[I'm] very excited and nervous at the same time [about the NJSIAA Group 1 Sectionals]," Ortiz said
The other newcomers to the spring team include several juniors: shot putters Etanna Grimes and Cynthia Oudhnarine and sprinters Kayla Sanchez and Katherine Centeno.
"I got a kick when they came in with all of the goofy attitudes, and as the season progressed, their attitude has gotten serious," Williams said.
Assistant coach Stephen Balzer said that Grimes, Oudhnarine, Sanchez and Centeno are "team players and step up when they're needed."
"All of the girls are fighters all the way, working hard to get better," Balzer said.
Grimes threw her personal best of 23 feet in shot put during the Hudson County Track Coach Association Relay Carnival.
"I think that I am doing good, but there is room for improvements," Grimes said.
Williams said he is looking at Grimes to be the leader for the fall track for the girls.
"She has a long way if she practices during the summer. She can be among the best in the city," Williams said.
Senior Haley Ortiz led the girls shot put team at the HCTCA Championships with a throw  of  22 feet and 7.75 inches.
Oudhnarine threw her personal best of 18 feet and 1 inch in shot put at the Saint Dominic Association Spring Invitational April 23. She came close to beating that mark at the HCTCA Championships.
Centeno had a personal best of 17.13 in the 100-meter dash during the Jersey City Outdoor Championships.
Boys track
Freshman Zachary Douglass won second place in the freshman 3200-meter, which is two miles, at the Hudson County Track Coach Association Championships May 19-21 with a time of 11:32, and then made it to fourth place in the 800-meter in 2:14.8.
Freshman Michael Tapalla came in sixth place with a time of 69.8 seconds in the 400-meter at the Hudson County meet and qualified for the state sectionals, along with sprinter Michael Fernandez, senior.
In addition to Douglas, distance runners junior Kenneth Fernandez, junior Ahmed Shehata, freshman Joshua Versoza and freshmen Justin Tiangsing also qualified for state sectionals, as well as senior Larry Bonaparte and sophomore Justin Gomez in shot put and junior Angel Guzman in discus.
Junior Kenneth Fernandez, captain and lead distance runner, anchored a gold medal-winning team consisting of junior Tyler Spivey, Shehata and Verzosa, in the varsity distance medley relay with a personal record time of 12:10.4 at the NJ Charter School Athletic League Relays May 14.  
Freshmen Freddie Martinez, Tiangsing, Douglas and Tapalla won the school's second gold medal in the Novice Distance Medley Relay in a new freshman record time of 12:23.1.
Tapalla said he was proud of being part of the gold-medal-winning relay team.
"I felt good winning my first gold medal and felt pretty good about the silver one, considering I was up against varsity," Tapalla said.
The other stars on the boys track team are the shot putters, according to Williams.
Gomez scored fifth place with a 37 feet and 3 1/2 inch throw at the Jersey City Championships May 2-3.
"I feel terrible about it because I had a very bad performance," Gomez said. "A week before I was in 40 feet, but I didn't even throw 38 feet."
Junior Angel Guzman won fourth place with a throw at 100.9 feet for discus.
"I felt annoyed because I had third place for a majority of the event until this kid Fernando from Ferris came out of nowhere and took my spot," Guzman said. "I felt as though I could have done better."
Senior Michael Fernandez won fourth place in the varsity boys 100-meter dash, setting a personal record of 11.5 seconds.
"I guess I felt like a bad example because I showed unsportsmanlike conduct because I walked away from the lane when I wasn't supposed to," Michael said. "However, I was pretty excited that I broke my [personal record]."