Boys basketball steps up their game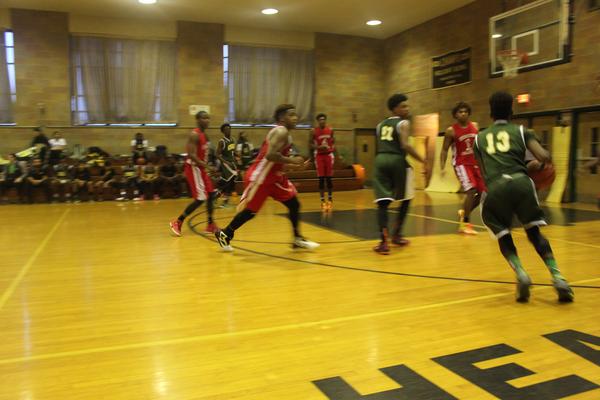 Thara Dambreville
June 1, 2016
Even with the team captain not being able to play until February, the boys basketball team still improved on their record from last year. Finishing the season 10-13, the Generals made it to the first round of the state tournament playoffs, losing 48-41 to Glen Ridge High School March 1.
Captain Daelon Rodney, senior, said that the playoffs went well.
"We played our best and we made the state tournament after not making it last year," Rodney said. "We played well but ultimately lost to a better team."
Though Rodney was unable to play half of the season, he kept motivating his team every step of the way, he said.
"I [felt] bad because I [couldn't] help my teammates win," Rodney said. "It is hard being a leader when you cannot lead by example, but I have become a great vocal leader."
According to Rodney, who plans to play basketball at the University of Tampa, when he finally got to play, "it felt good," especially since they won that game.
"Playing that first game of the year was especially great because a lot of people came to support me, and I got to reach the standards that I set for myself," Rodney said. "My goal was to be a great team captain, and I reached that goal because I held myself and [the] team accountable for our mistakes and pushed my teammates to be better every day."
Coach Sergio David said that the main thing he wanted to work on this season with the team was chemistry.
"Because we worked on team chemistry, we won a lot of games and that played a major part of it," David said.
The team's star players were seniors Terry Beverly, Rakir Jones and Dishawn Gates and junior Chika Owusu, according to David.
"It is going to be a tough blow when the seniors leave because I used about six seniors this year, but I have underclassmen who I believe will step up," David said.
Owusu said that it was an honor to be a starter as a junior.
"It feels good to be one of the first people on the court," Owusu said. Scoring 151 points this season, Owusu surpassed his total of 122 points from last season.
Senior Dishawn Gates said that the season went well, but he wishes that they could've gone farther.
"I do not plan on playing in college because I want to focus more on my academics, so this is my last year playing basketball for good, which makes it especially sad that I am leaving, but I cannot do anything about it," Gates said. "The season was a good run, I wish we could've lasted longer; hopefully next season the team goes harder and does better than we did."