Senior football star makes school history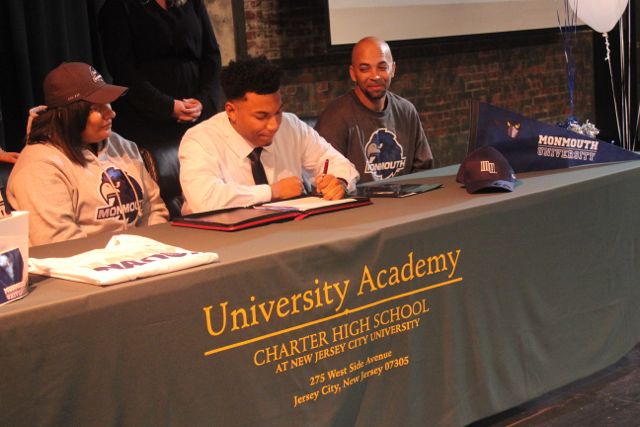 Mahkiya Gresham
February 18, 2015
Senior Devell Jones signed a letter of intent February 4, committing to attend Monmouth University, which has offered him a full four-year scholarship. Jones is the first student in UACHS history to be signed to a Division I school, and the first in his family to go to college.
"I'm so blessed, college is expensive, and he has younger siblings, and they look up to him," Devell's mother Tiffiney Jones said.
Monmouth is close to home, and when he went to visit the school, the coaches made him feel at home, Devell said.
Devell's mother said she dropped down and said, "thank you, God," when she found out he was going to attend a Division I college. "The potential that others see in my son is a blessing," she said. She says it's "bittersweet" that she won't get to see him every day, but she is so proud of him.
"He's my baby, I'm going to miss him," Tiffiney Jones said. "I'm pretty sure I'll still be doing his laundry."
Playing football has been a stress reliever since he started playing in seventh grade, Devell said. Any problems going on at home, school or with his girlfriend all go away when he's on that field, he said.
Devell said that playing in MetLife Stadium against Mountain Lakes for the NJSIAA Section 2, Group 2 sectional was his most memorable experience in his career as a running back for Lincoln High School.
"To be able to go into the locker room and play on the actual field was just even better," Jones said.
In the eyes of Lincoln football coach Robert Hampton, Devell was a role model to his teammates. He was dedicated and committed, with a big heart.
Hampton said he "always thought Devell should try to be selfish, especially with his talent, but Devell was always too much of a team player."
He said he remembers seeing Devell play for the first time and "he hurtled over a kid and continued to run to the in zone; I was just amazed of his talent."
Assistant dean and athletic director Michele Bruce has watched Jones develop into the young man he is today and she felt honored that he wanted to hold his signing at the school, she said.

"I was very emotional at the event because I realize how life-changing it is for his family," Bruce said. "It was especially nice to see how his friends were in awe of his accomplishments."
Jones embodies the qualities that Bruce said she wants to represent a UA student:  "he's respected by his peers, celebrated by his teachers and over all someone people can be proud of."
Senior Deshawn Tyler is a friend of Jones who has played against him on the field. He said Jones has a "great head on his shoulders" and a great future ahead of him.
"He is a great kid who doesn't want to be in the streets doing the wrong thing," Tyler said," unlike other athletes."